With warmer weather comes kittens. While Larimer Humane Society advocates that cats be kept indoors (for a variety of reasons), the truth is that cats still roam the neighborhoods across our communities. That also means that cats without a home may birth their kittens outdoors, seeking safe, opportune places to deliver and nurture their young similarly to wildlife. It's not uncommon for humans to come across these babies.
Undoubtedly, your heart is in the right place if your first instinct is to save and protect newborn kittens you may stumble across, particularly if they appear to be abandoned. That may not be the best option for them, however. With summer right around the corner, Larimer Humane Society's supervising veterinarian, Dr. Lindsey Gapstur, breaks down kitten season – when to bring stray kittens into the shelter, and when to leave them alone.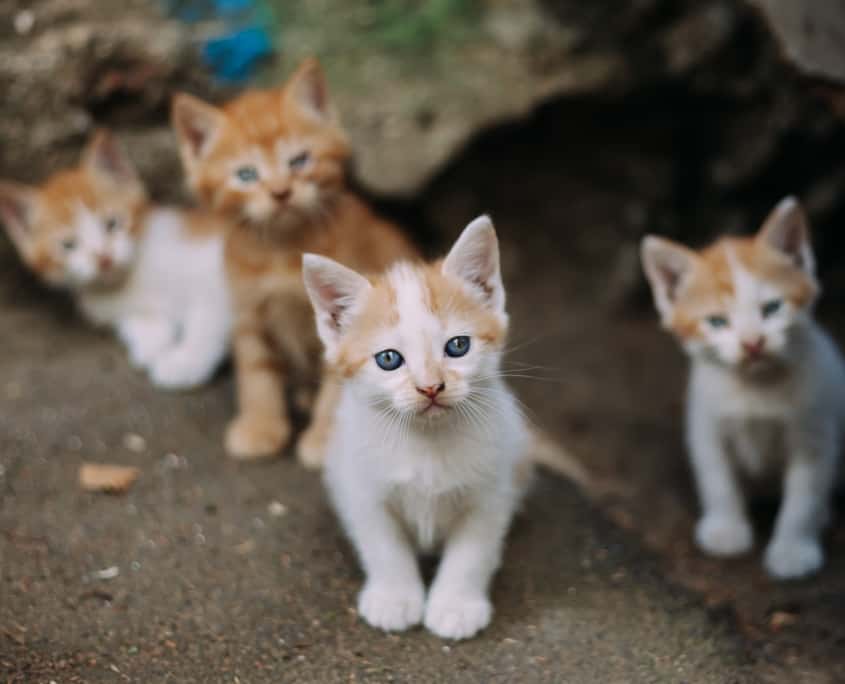 What is kitten season?
Kitten season typically lasts from late spring to early fall, but is based on the weather that season. Warmer weather tends to lengthen the season, whereas colder winter may shorten it. In general, we see higher numbers of kittens and mothers coming into the shelters as strays during kitten season – hence the name.
If you find a litter of kittens without their mother, should we assume they have been abandoned?
When you find a litter of kittens in the field or outside, you should not automatically assume the mother has abandoned them. We recommend looking at them and assessing them. Do they appear injured or ill, or do they look healthy, feel warm, and appear to have full bellies? Also, determining if they are in a safe area is important to assess if we need to intervene. The age of the kittens is an additional factor in determining if the kitten can survive away from their mother. Here is how you can estimate the age of a kitten and what to do when you find one: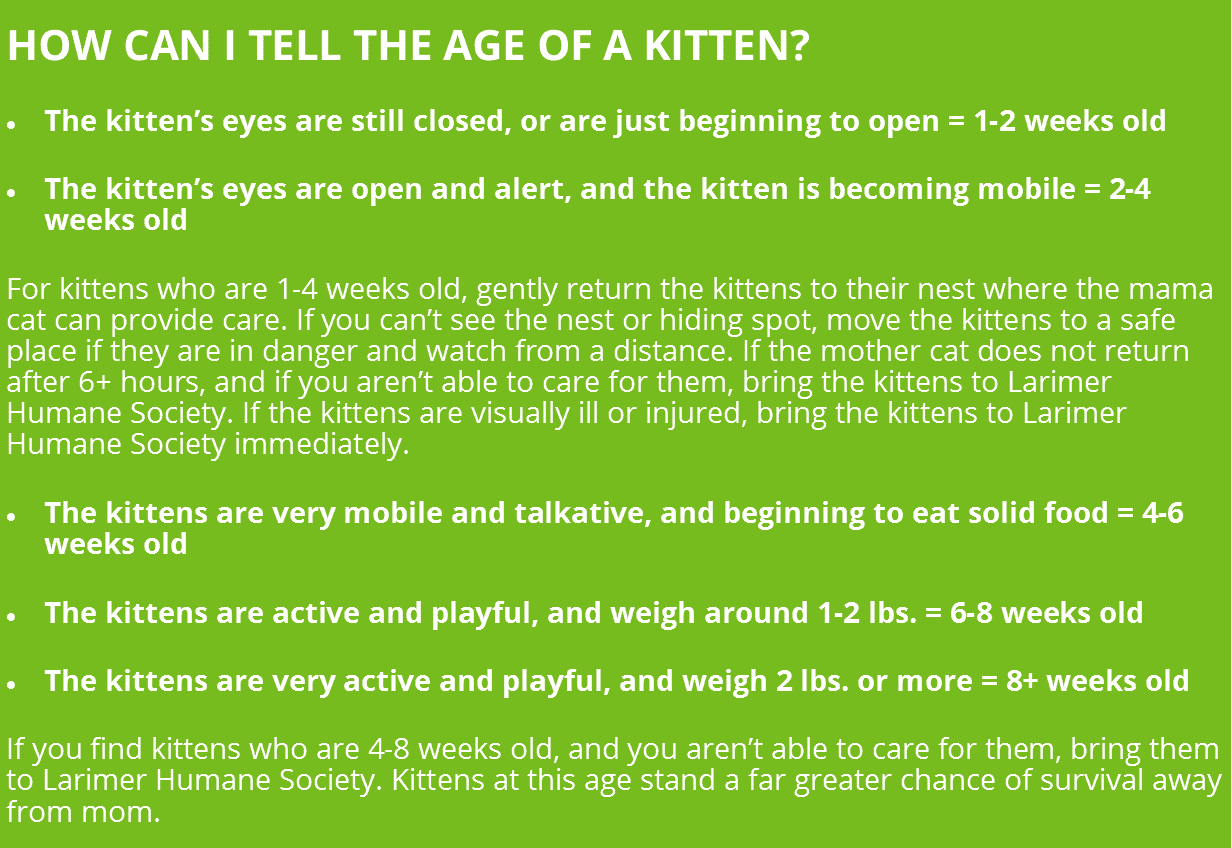 When you pull kittens from the outside and bring them to Larimer Humane Society, we can provide food, shelter, and warmth, but we cannot always provide a mother. Mother cats may still be nursing the kittens, providing them with vital nutrients and care. Just because you don't see her around doesn't mean that mom isn't keeping watch close by. We do have options if you contact Larimer Humane Society to discuss trapping the mother and the kittens, in order to bring them in as a family.
When should I be concerned that the mother will not return?
If the kittens appear to be healthy, they are safe and warm in their nest, you should assume that the mother is likely nearby hunting or hiding because they may not be used to humans. Give the mother cat at least 24 hours to come back, but making sure you are not hanging around the nest scaring away the mother. Checking on the kittens regularly from a distance allows you to keep an eye on the kittens, and make sure they are safe.
What happens to those kittens once they get to the shelter?
When kittens are brought into Larimer Humane Society, they may be placed with a foster volunteer, or they may remain at the shelter to receive care from our Animal Care team. This depends on if they have a mother with them, or if they are brought in alone. If they come into Larimer Humane Society without a mother, they often need to be fed every 1 to 4 hours, depending on their age. We use milk that is synthesized to mimic a mother cat's milk, but it's not as good as real cat milk. Nevertheless, those kittens will be watched over and will grow with the help of our foster volunteers and staff within the shelter. If they come in with a mother, we will keep the kittens with her until they are big enough to be weaned. We find that kittens who are raised and fed by their mothers are far likelier to thrive. When you bring them in, you will be asked to fill out a found report with Larimer Humane Society so we can ensure that they are easily found in case an owner does come forward. To file a found report over the phone, call 970-226-3647 ext. 0.
How can people help reduce the amount of stray litters being born during Kitten Season?
The best way to reduce the number of stray kittens born during kitten season is to spay and neuter your cats and keep them indoors as it really is the safest option for them. If you do find kittens out in the wild, be sure to contact Larimer Humane Society to get more information on the next best steps to keep them safe and allow them to grow into healthy cats.
https://www.nocohumane.org/wp-content/uploads/2020/05/iStock-503742806.jpg
2160
2160
Tylor Starr
https://www.nocohumane.org/wp-content/uploads/2023/09/NOCO-Humane_Primary-logo-full-color-300x90.png
Tylor Starr
2020-05-28 22:49:13
2020-05-29 15:33:11
What to Do If You Find Stray Kittens