When deciding to adopt a new companion – for the first time or the tenth – the idea of owning a bird may not be at the top of your list. Aspiring pet owners are often seeking companionship and a buddy to cuddle on the couch or to go on adventures with, and at first glance, birds may not foot the bill. However! Domestic birds, like any other pet, make for great companions and like to bond with those who take the time to socialize with them. If you are or have ever been on the fence (or the telephone wire) about owning a bird, we would like to shed some light on how delightful bird ownership can be.
Depending on the species, birds enjoy a variety of playtime and social activities. From singing, dancing, playing with toys, and even teaching tricks, there are a number of ways to interact with a pet bird. In fact, birds require a certain amount of stimulation and playtime throughout the day. During these activities is a great time to bond with your bird. Get to know them – learn their quirks, traits, preferences, nuances, etc. – and let them get to know you. Over time, your bond will grow into a sweet friendship.
Many Larimer Humane Society staff members enjoy the companionship offered by pet birds and have offered some thoughts, tips, and tricks to sharing your home with a feathery friend. Lee, our Shelter Supervisor, shares that birds are "very playful and social." When asked about her pet dove Glen Coco, she said, "She is so sweet and loves to climb on my finger and bond with me every day."
Jessica, our Events & Development Coordinator, has a pet Conure (in the parrot family) named Blaise and a dove named Burnie. When asked how she likes to spend time with them, she shared, "I actually like to sit and watch TV with my birds! It's a simple way to spend quality time with them outside of the cage." Jessica also warned that, "The most important thing to remember with a pet bird is to avoid Teflon. The coating in Teflon (and other non-stick cookware) produces fumes that are toxic to birds!"
Kaley, our Volunteer and Humane Education Program Manager, shares her home with Peter Piper the parakeet. "He is obsessed with all the mirrors in his enclosure, and he spends a lot of time singing and talking to his reflection," said Kaley. "He loves enrichment and getting millet and seeds out of homemade contraptions I make for him. Peter also loves bobbing to music and repeating noises he hears. He will copy the iPhone camera shutter, my laugh, and he will wolf whistle when I walk by. He occasionally flies around my house, but he prefers to stay in his enclosure with his mirrors most of the time."
Larimer Humane Society often sees a variety of bird species come through the shelter, and right now, we are housing seven birds (doves and pigeons). If you have ever wondered if you could make best friends with a domestic bird, there's only one way to find out! If you have any questions, you can always reach out to our Behavior Help Line at 970-226-3647 ext. 5130. Even if you don't plan to adopt, feel free to stop in and say hi to the birds!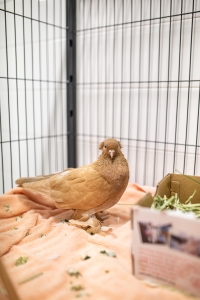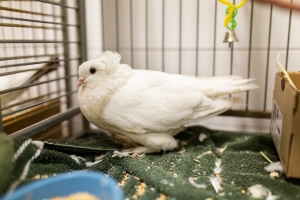 https://www.nocohumane.org/wp-content/uploads/2022/09/Larimer-Humane-Society-September-2022-597-scaled.jpg
2560
1707
Scott Wendelberger
https://www.nocohumane.org/wp-content/uploads/2023/09/NOCO-Humane_Primary-logo-full-color-300x90.png
Scott Wendelberger
2022-09-29 22:48:11
2022-09-29 22:48:11
Becoming a Bird Owner