This is most likely not the first time you have read about Roxy and Oz, a bonded pair of canines who, over the course of a year, were surrendered into the care of Larimer Humane Society — twice. In the summer of 2021, Roxy and Oz spent more than a month on the hunt for a permanent home. At the time, that was nearly five times the average length of stay for a dog at Larimer Humane Society. "The day that Roxy and Oz went home was an exciting day for the staff," remembers Amanda Myers, Director of Development & Community Relations. "We were all thrilled to see the start of their new life after being with us in the shelter for so long." That's what made their return to the shelter on April 18th, 2022, all the more difficult.
However, the love and support of this community did not waiver, and after another seven weeks in the shelter, Roxy and Oz found their "forever" family! Their adopters, Beth and Kurt, were looking for just about the same things as Roxy and Oz – love, trust, fun times, and companionship.
"Hey, I want you to come take a look at this brother and sister," Beth said to Kurt over the phone after seeing Roxy and Oz on Larimer Humane Society's website. Hours later, the four of them gathered in a visitation room and the rest is history. "It felt like we knew each other forever," said Beth. "It's an unspeakable bond – I don't know how else to describe it – it just is."
Beth and Kurt both have experience with training dogs, so they immediately put Roxy and Oz on a routine and implemented basic commands and training. "We could tell they haven't had much training in a while, but they sure are smart dogs because they picked it all up fast," said Kurt. They describe Roxy and Oz as two dogs with one brain – always walking in tandem – and always having each other's back. In fact, an emphasis in their new training is learning how to be more independent of each other. "Oz is clearly the alpha, she'll take the ball directly out of Roxy's mouth," laughs Beth, reflecting on behavior that only a sibling can get away with. "Our cat, Wus, is trying to be alpha over Oz and those two are still working it out."
While Roxy and Oz were blessed with two loving and thoughtful owners, they were quick to pick favorites. Soon after adoption and on their way home from Larimer Humane Society, they stopped at Loveland's Benson Sculpture Park for a quick walk. "We were about halfway through the walk and both dogs stopped," said Beth. "In their own way, they told us that they each were being walked by the wrong owner and essentially switched spots with each other." From then on, it was known that Oz is Beth's boy and Roxy is Kurt's girl.
Roxy likes to tag along with Kurt on his hunting adventures and is slowly learning how to become a hunting dog. Having experience with hunting dogs, Kurt shares a variety of tips and tricks with Roxy, giving her plenty of enrichment and healthy stimulus while in nature. "She's so amazingly smart," said Kurt. "There's a place in Fort Collins we like to go and she tries to scare anything that moves . . . but she's getting better at listening before lunging." The hair on Roxy's neck, along with her pointy ears, stand up straight when she detects something in the field. Before, she was all instincts and quickly took off – now, she stalls in the "ready" position and waits for a command.
"Oz is my yellow headed boy," said Beth, claiming him as her sidekick and moral support. Beth is training both Roxy and Oz to be therapy dogs and they have already mastered basic commands and routines. In their first month of living together, family and friends would comment that they couldn't believe Roxy and Oz have been their companions for only a month, because it looks like their human/animal bond is years in the making. "A lot of trust," said Kurt. "We simply understand and respect each other."
Kurt was shocked to hear that Roxy and Oz were brought back to the shelter after being adopted the first time. "They are two of the best dogs, they really are," said Kurt. "You can't have 'em back," laughed Kurt and Beth. They both are equally surprised and humbled at how fast Roxy and Oz accepted them as their providers and companions. "We love them," said Beth.
It has been quite the journey for this pair of pups, patiently waiting for a human owner to see how smart, loving, and great they really are. In this case, they hit the jackpot and were adopted by two humans who are equally as loving and caring. We are so grateful to Beth and Kurt for welcoming Roxy and Oz with open arms, and we can't wait to hear more adventure stories of Roxy and Oz as they settle into their new home!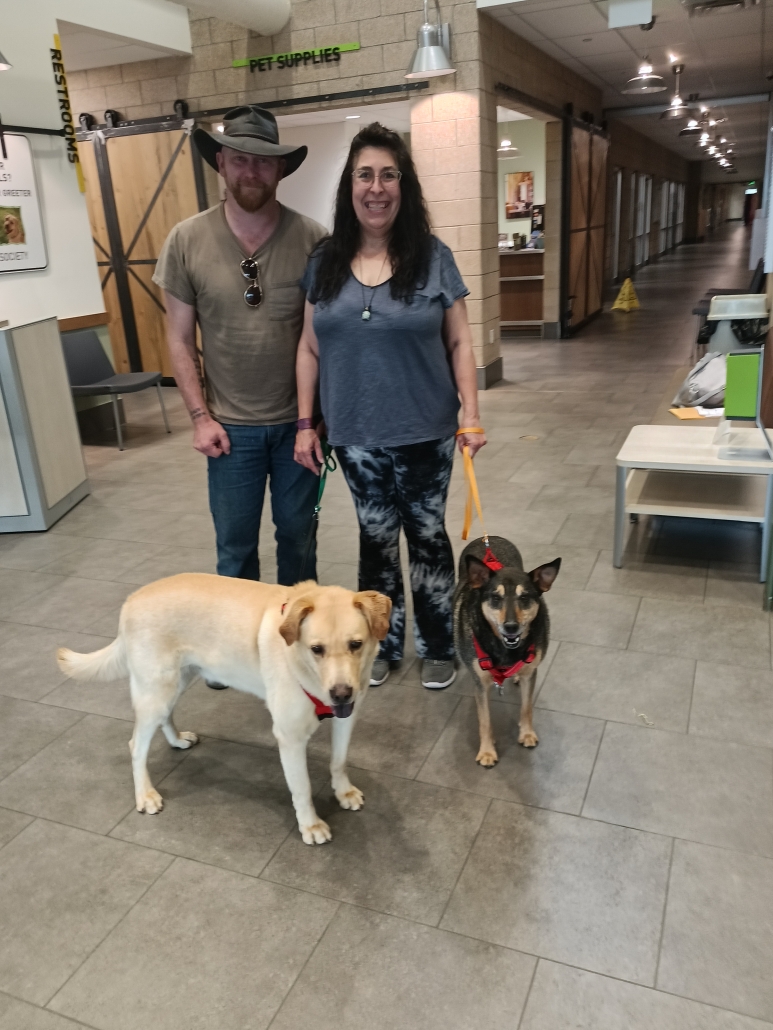 https://www.nocohumane.org/wp-content/uploads/2022/09/Roxy-Oz.jpg
600
504
Scott Wendelberger
https://www.nocohumane.org/wp-content/uploads/2023/09/NOCO-Humane_Primary-logo-full-color-300x90.png
Scott Wendelberger
2022-09-12 22:47:38
2022-09-12 22:50:28
Roxy and Oz Find Their Forever Family