As we celebrate National Animal Control Officers Appreciation Week, a few of our Animal Protection & Control (APC) officers shared some memorable moments during their time here with APC, along with what motivates them to wear the badge and serve the community.
Sgt. Joseph Quinn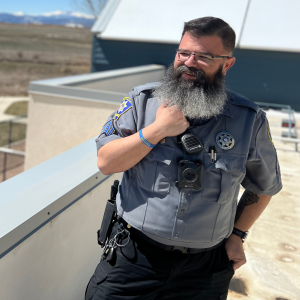 Sergeant Joe Quinn has been an APC Officer for Larimer Humane Society since May 2008, and a sergeant since 2016. He claims to have just been looking for a job, while it blossomed into a career. Over the course of 15 years, he became a state-certified Animal Control Officer, a nationally certified animal cruelty investigator, and a Bureau of Animal Protection Agent. He has investigated all kinds of cases, but his favorite type of call is responding to wildlife in people's homes. Joe strives to use all of his knowledge and experience to teach the next generation of Animal Control officers, and he's grateful to be part of an amazing organization that protects the people and animals of northern Colorado.
Sgt. Madeline Smith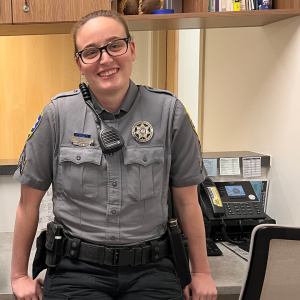 Sergeant Madeline Smith has been with APC since fall of 2019. Madeline enjoys having the opportunity to work with and help people and animals in our community. One of her favorite memories while on the job is responding to a call of a stray Tegu that wandered into the women's restroom at Edora Park in Fort Collins!
Shannon Walsh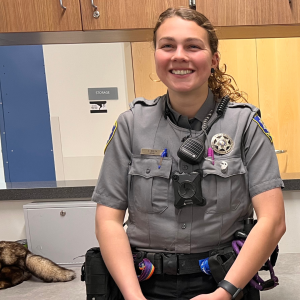 Shannon started working for APC in December of 2021. She is motivated by having opportunities to connect with and serve the people and animals in her community. Shannon believes that education and outreach are essential components of an APC officer's role, and it is rewarding for her to help people and animals better enjoy their lives together. That being said, her favorite part about the job is reuniting lost pets with their owners!
Johanna Lange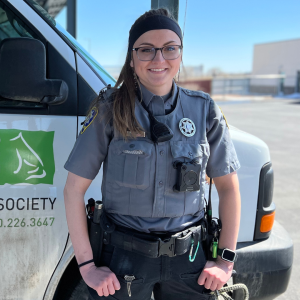 Johanna started working with APC in April of 2020. Her favorite memory comes from running rescue missions during the Cameron Peak and East Troublesome fires. One house in particular was in the middle of evacuating and she helped get their eight chickens down the mountain and to safety. To top it off, she witnessed a tearful and sentimental reunion when she reunited them with their chickens and three cockatiels after the area was cleared. Johanna's main motivation for being an APC officer is the ability to work with all sorts of domestic animals and wildlife.
Sydney Robinson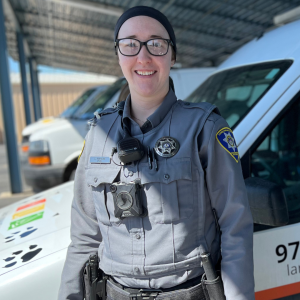 Sydney has served the community as an APC Officer since June of 2021. Her favorite memory stems from a call of two goats at large in north Fort Collins. When she arrived, the goats were hanging out in a tattoo parlor with the tattoo artist who, much to her surprise, was the owner of the goats. "I suppose it was bring your kid to work day," laughed Sydney. Overall, Sydney enjoys making a difference in our community everyday, and have some fun while doing it!
https://www.nocohumane.org/wp-content/uploads/2023/04/Joe-APC-week.png
1080
1080
Scott Wendelberger
https://www.nocohumane.org/wp-content/uploads/2023/09/NOCO-Humane_Primary-logo-full-color-300x90.png
Scott Wendelberger
2023-04-12 23:51:03
2023-04-25 22:09:10
Getting to Know our APC Officers